Nuevo flamenco Spanish classical guitarist for weddings in Devon, Cornwall, Somerset, Dorset, Plymouth, Truro, Exeter, Bristol & South West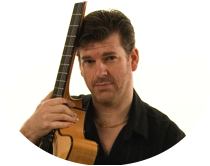 Endorsed by Red Bear Picks & G7th Capos
JAN 2020:
Well the new year has got off to an encouraging start and I'm delighted to report that work on a new album entitled 'Haiku' is underway. This recording will attempt to bridge the gap between western and oriental oriental influences and is possibly the first work of its kind to fuse oriental flavours into a spanish guitar environment. The results so far have surpassed expectations and I'm full of optimism that this may be well received by the more discerning members of the listening public willing to accept something a little out off the beaten track.
December 2015:
25,000 subscribers reached on YouTube this month, thanks for all the support! I'm also delighted to be able to report that my composition 'Mirage' from my 2007 album 'Terra Nova' is to be featured in a BBC Television documentary on Tuesday 8th December. The program is called 'Boy on the Bicycle' and documents the plight of a group of children entangled in the Syrian refugee crises and is part of the 'My Life' series. It is to be shown at 5pm on CBBC!
November 2015:
Four years since my last official release and Alchemy is finally ready to order on both CD and DD format! Hurrah!
February 2015:
I am pleased to announce that as a long time user I am now an official endorsee of the G7th Capo Company! Their new classical guitar model is only 53.5 grams as opposed to the previous 79 gram version. It's lighter and grips better...an improvement on an already near perfect product!
January 2015:
I am pleased to announce that I am now an official endorser of Red Bear picks! These picks are the business and if you haven't tried them yet what's keeping you? A big thanks to Dave for sending me these wonderful picks, I am delighted to be part of the Red Bear family!
May 2018:
I am pleased to announce that my long-awaited album 'Heartstrings' is now available for digital download through my media website or any international download store. The official release date for physical copies on CD will be May 11th!
January 2016:
Well a new year is upon us and the rain continues to fall. This should at least afford me some studio time where I hope to add some more videos of my latest album 'Alchemy' to my YouTube channel. I also hope to get more backing tracks and videos up on my media site including one or two from my latest album. Later on in the year I hope to start work on my next studio album!
June 2021:
The last year or so has been testing for all of us not least those in the leisure industry, work has been sparce of not non-existant but for a musician there is always something to be getting on with. I am still alive and well and have been working on new ideas that I hope to be able to bring to the table soon. This industry is rapidy changing and not for the better but I hope to have at least a couple more album productions to offer to my fan base in the not too distant future but they will more then likely only be available via digital media sources as it is no longer financially viable to produce albums on CD which I am very sad about. I will keep you posted on progress of my next planned release.
February 2023:
I'm clearing out the last remaining stock of my CD albums. When they are gone I won't be making anymore as the demand just isn't there. It's sad as I for one really like to have a tangible product but the industry has all but killed this off, preferring the 'instant gratification' formular instead...in every respect! The good news from the point of you or anyone wishing to own a genuine hard copy compact disc is that they are now being offered at 2 for £20 with free global postage!!! Limited stocks so be quick!
I have also dramtically reduced the prices of my custom built electric guitars!