Nuevo flamenco Spanish classical guitarist for weddings in Devon, Cornwall, Somerset, Dorset, Plymouth, Truro, Exeter, Bristol & South West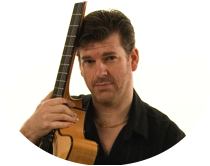 Endorsed by Red Bear Picks & G7th Capos
The Arundel Arms - Gin & Tapas Evening 6:30pm
Fore Street, Lifton, Devon PL15 0AA
Tel: 01566 784666
I am pleased to announce that my long-awaited album 'Heartstrings' is now available on all platforms. Over one hour of the most hauntingly beautiful melodies ever written are presented here with the seductive charm of the spanish guitar taking centre stage. Powerfully emotive contemporary arrangements breath new life into these timeless classics.
You can purchase the physical CD right here by clicking on the store link opposit or on my store page where you will also be able purchase other albums from my catalogue.
June 2021: The last year or so has been testing for all of us not least those in the leisure industry, work has been sparce of not non-existant but for a musician there is always something to be getting on with. I am still alive and well and have been working on new ideas that I hope to be able to bring to the table soon. This industry is rapidy changing and not for the better but I hope to have at least a couple more album productions to offer to my fan base in the not too distant future but they will more then likely only be available via digital media sources as it is no longer financially viable to produce albums on CD which I am very sad about. I will keep you posted on progress of my next planned release.
Al Marconi is an internationally acclaimed Spanish guitarist and composer of what can only be described as new age contemporary spanish classical guitar music. Al has recorded seven studio albums to date and his music has been used in film and TV productions the world over. Through the medium of YouTube Al has established himself as one of the most watched and admired spanish guitarists in the world today!
This website will allow you to listen to and purchase Al's music as well as enquire about his services for weddings, functions, events, session hire and recording work.
Heartstrings Album Preview
Latest Backing Track Video
The backing tracks from all of my album recordings are available for purchase and provide an excellent resource for beginners and professionals alike. You can audition and purchase these tracks by visiting my dedicated media website below: