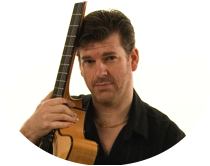 Endorsed by Red Bear Picks & G7th Capos
I am the only artist I know that is able to and in fact does sell their own original album backing tracks. The reason I can do this is due to my status as an independant artist with complete and absolute copyright control and management over all of my creative productions.
These tracks are an excellent tool for learning and a great resource for live performance. You can audition videos of the tracks and make purchases by clicking on the link below which will take you directly to my media website.
Instrumental Spanish Guitar Backing Tracks
Backing Track Video Example