Nuevo flamenco Spanish classical guitarist for weddings in Devon, Cornwall, Somerset, Dorset, Plymouth, Truro, Exeter, Bristol & South West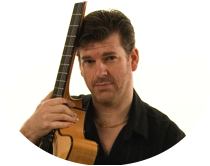 Endorsed by Red Bear Picks & G7th Capos
At the moment I am recording with a matched pair of Rode TF5 Condensor microphones! These are outstanding mics for the money and I'm delighted with the results I am getting. In the past I have owned many expensive high end microphones such as the Neumann TLM 103, Neumann KM 184, DPA 4011, AKG C414, Audio Technica AT4050, Schoepes CMC6 but I find Rode mics among the best for all-round quality!
We only use Pure Tone jack sockets for the most reliable signal output. These jacks are guaranteed to almost never fail as they grip the jack from all four sides thus avoiding the common problem of signal crackle when the sprung contact pin wears loose and fails.
I have always had as much enthusiasm for the instrument itself...it's maintenance, repair and construction as I have for playing it. I have been dismantling guitars and trying to improve their playability since I was 13 years old and so with nearly four decades of experience behind me I consider myself reasonably accomplished in knowing what creates a great instrument. With this in mind I recently set about construction of a limited series of guitars under the name of 'Aardvark' that seek to address many of the problems I have encountered over the years with the usual famous suspects, somewhat aghast that with all their resources they have never set about resolving these issues themselves!
Listed below are a few guitars that are still available with a look into some of the great features they have to offer. Once these have gone I won't be making anymore due to time constraints and the sheer cost of producing guitars of this calibre. Drop me a line if you are interested in owning something unique.
This pedal board that I have put together consists of a dovetail jointed all solid wood fully mains powered enclosure that uses a Friedman Power Grid to power the pedals.
A quiet simple and understated array of top quality pedals that run with very little noise and an excellent pedal to pedal balance. Pictures above are a Sonic Research ST-200 Turbo Tuner, Bondi Effects 2026 Compressor, XTS Imperial Overdrive, Mission Engineering Rewah Pro, JHS Unicorn Univibe, Neunaber Wet Mono Reverb, Keeley Recino Digital Delay and finally an ISP Decimator. With this set-up in to a nice warm valve amp I have pretty much every tone I'll ever need covered.
This is my go to recording guitar due to it's resonant bass response and crisp treble frequencies. There is no pickup installation on this guitar as it is purely for studio use and nobody in their right mind would ever DI a nylon strung guitar would they?! Originally this had peg-heads but whilst I appreciate their authenticity I find them unusable and so I had the headstock converted for regular tuners.
This has been my main gigging guitar for many years now and is somewhat worse for wear but it jusy keeps on going. I have over the years tried nearly every pickup system on the market from Fishman, Carlos Juan, RMC, L R Baggs, B-Band etc. For this guitar I have installed a K&K Fantastick undersadle transducer together with an AKG C411 condensor pickup which I blend with my Rane preamp.
It has always amazed me that even a £5000 custom shop Stratocaster will still come with a simple bent metal plate screwed on with two weaselly wood screws that all too often strip out. All that talk of sustain and cash lashed out on boutique pickups, sustain blocks and those amazing all-singing custom ordered titanium strings only to loose all the benefit by terminating things with a bent floating metal plate! Enter the Schaller Sure Claw! A substantial piece of engineering that makes full contact with the guitar body and can be accurately adjusted to within a whisker by a simple Allan key!
Without doubt the one factor that will let your guitar down more then any other is a tremolo system that won't return to pitch properly. We take no chances in this respect and fit probably the very best full contact tremolo system on the market today. Click on the link to find out why they are so highly regarded -
In addition to this we use Graphtech saddles which effectively minimize friction at the contact point and therefore eliminate string breakages and improve tuning stability. Plus they won't tarnish or rust and the grub screws are made from stainless steel and manufactured to the correct height so as to not dig in to your hand! We also anchor the tremolo using Callaham nickel plated hardened steel screws which won't score like those used by F*****.
We have probably all suffered from loose or wonky strap pins at some point...you know, the sort that come loose and fall off during that moment of adrenaline fuelled histrionics causing your guitar to smash to the ground leaving you in a rage of embarrassment!
Well worry no more with our counter-sunk locking strap pins guaranteed not to fail on you. Plus they look oh so cool and will have onlookers wondering what's holding your guitar up!
Again it is difficult not to use the F-word when it comes to heal blocks, that horrid wall your hand collides with where the neck joins the body is just unacceptable to any player that likes to play above the 15th fret. We have adressed this with our smooth rounded all-access heel joint.
Along with the buttons above we prefer the use of authentic German made Schaller back-locking tuning machines. These are not the cheaper versions you will find on most of todays Fender Stratocasters!
I have never understood why we have to put up with oversized and often cumbersome tuner buttons! This problem is successfully addressed by the installation of our thin-barrelled knurled buttons that not only function better but look pretty funky as well!
I am a long time Apple user and have been running Logic as my sole sequencing and recording program since it's Emagic days. I currently use Logic X which does everything I need it to and is intuitive to use. I am more then happy utalising the native tools and effects for reverb, equalisation and mastering. I do however use a number of third party creative software instrument plugins such as those by Spectrasonics, East West and Native Instruments for soundscaping and production.
I am running my stereo microphone set-up directly into an Apogee Quartet and from that into my Apple iMac. The Apogee is a superb piece of gear, the preamps are clean with plenty of headroom and the whole unit operates with negligible latency. It is also very neat and tidy on your desktop taking up less space then an iPad.
With every guitar I have ever owned I have always felt the need to make improvements. Removing the often cracked lacquer from the fretboard edges is essential for me. I also insist on adding a 12-hole tie system and for cosmetic appeal I like to scallop the topnut. Often to achieve a lower action I will also reduce the whole bridge assembly requiring that the saddle slot be cut deeper and the bridge then recapped. Spanish guitars nearly always benefit from an upgrade of their tuning machines, my favourite are Sloane but equally as good and a little more cost effective are the bearing assisted models shown below that Schaller has to offer.
This is currently my backup guitar and will take over full-time duties once my Burguet goes into retirement. In the meantime I use it in the studio for when ever I require upper fret access.This also has a K & K Fantastick undersadle transducer together with an AKG C411 Condensor Pickup installed both with a passive output so no worry about battery failure!
As I use a combination of two passive pickups for my output it is necessary to use a dual channel preamp for boosting, equalising and blending the separate signals. I have found great success with the RANE AP13 which I have been using for many years now and swear by. To be frank there are so few options available, especially to the UK market but I would love to be able to get my hands on a UK power converted Pendulum Audio SPS-1 at some point. Also in my rig you will see a Korg DTR-1 Tuner, a Denon DN-F300 audio player and a Furman power conditioner.
Guitar players are gear junkies who are never satisfied, always swapping out their prized possessions in search of the holy grail of tone, playability and cosmetic appeal often with little regard to affordability and much to the chagrin of my wife I am no different.
So what do I use and why? Well over the years I have spent a small fortune on a vast plethora of equipment from budget priced to high end custom boutique...the results have often proved to be quiet surprising.
Below is my current arsenal of live and studio equipment that should answer a few frequently asked questions.
Every single Aardark Custom model of guitar comes finished in a unique hand painted design, no two are the same. The Stratocaster style bodies come in two sizes of thickness and weights...a smaller then regular body for those who prefer something a lot less chunky and lighter then a typical Les Paul and a heavier regular thickness body for a little more meat and natural sustain. The guitars use only the very finest hardware and pickups.
These guitars are designed to look awesome, sounds awesome and play like a dream and all that without having to have a common mass produced brand name on the headstock!
Other items I use are G7th capos and Red Bear picks both of which I have endorsements with. More recently though I have been using my own self-made plectrums (or picks if you are from the USA) which I name EcoPicks and are available to the public here -
GUITARS: I have owned many different makes and models by different manufacturers and luthiers from inexpensive factory models such as those made by Yamaha and Takamine to master luthier constructed models by Manuel Conde and Pedro Maldonado and I have proven to myself time and again the old adage "you get what you pay for". That's not to say you can't get a good tune from an old dog unless we're talking about Madonna!
Manuel Raimundo 646 Cutaway Flamenco Guitar
Amalio Burguet 3F Cutaway Flamenco Guitar
Vincente Sanchis Model 40 Flamenco Guitar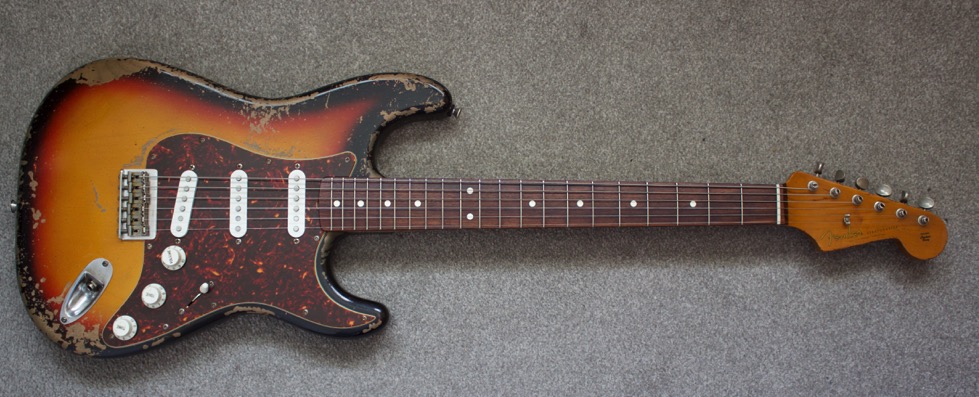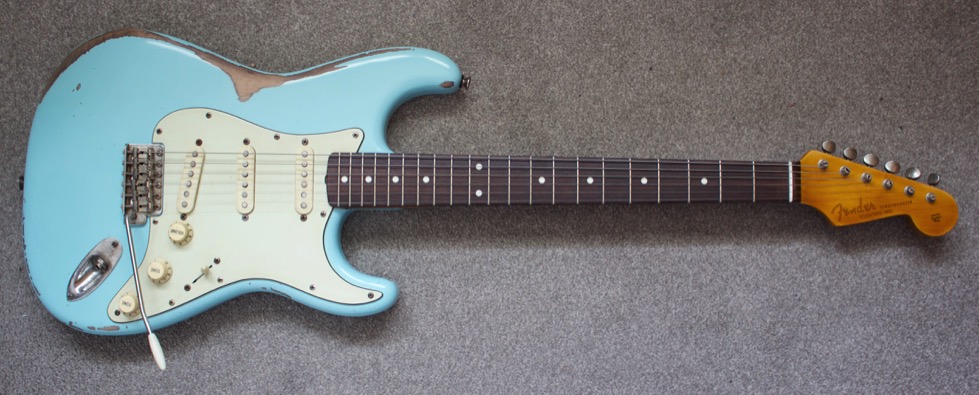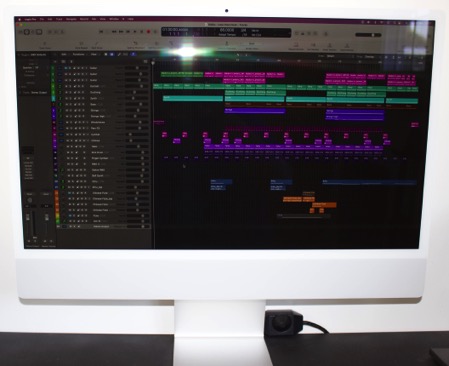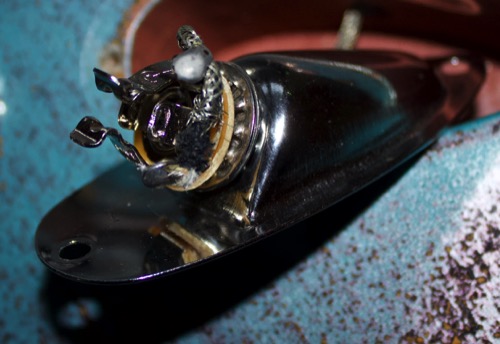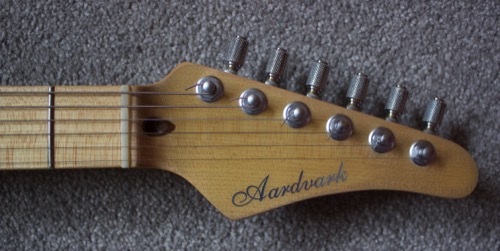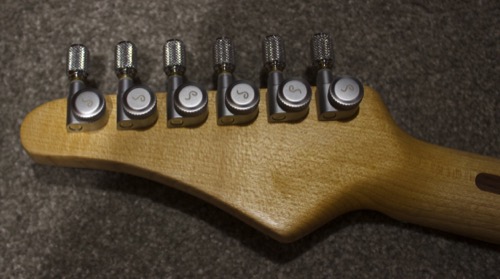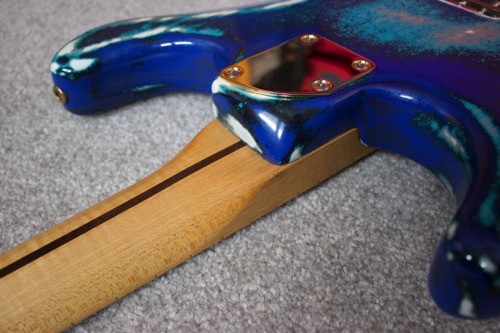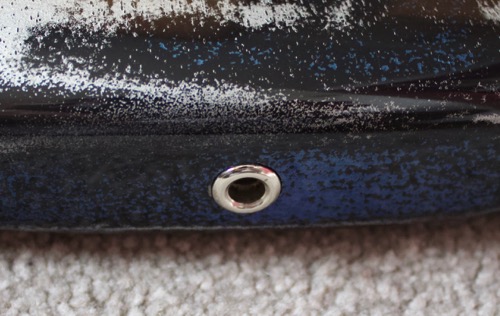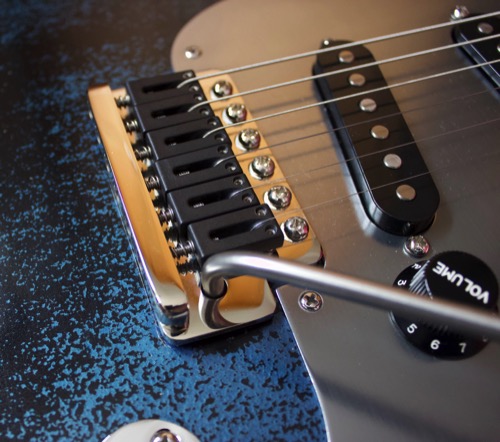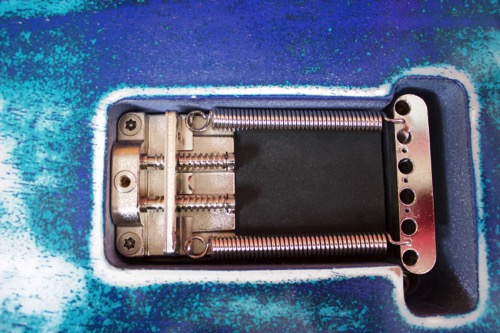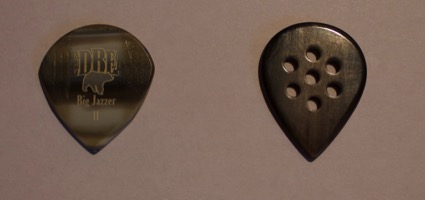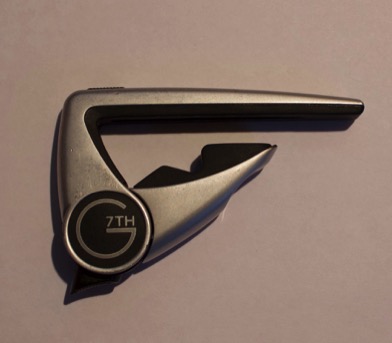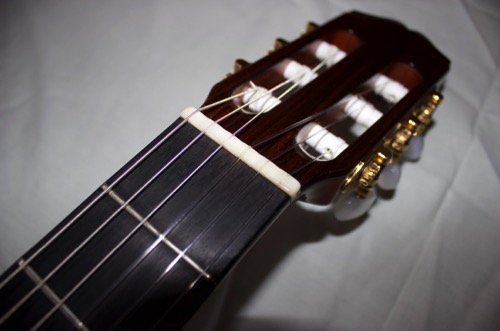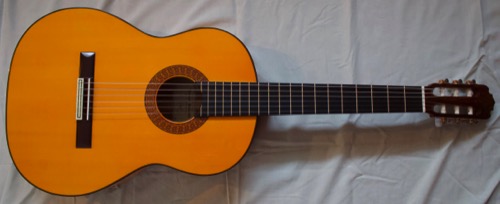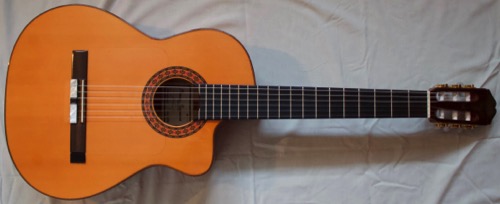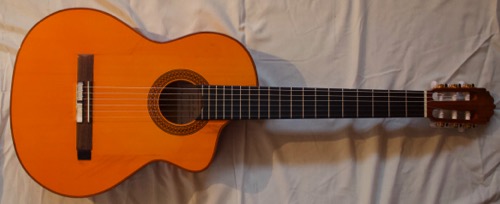 Ibanez Custom JS - Joe Satriani Model '87 540R Remodelled
Sonic Blue Custom Relic Strat
Shell Pink Custom Relic Strat
Sunburst Custom Relic Strat
Olympic White Custom Fat Strat
Olympic White Custom Relic Strat
Olympic White Custom Relic Strat
Sunburst Custom Relic Strat
Shell Pink Custom Relic Strat
Sonic Blue Custom Relic Strat