Nuevo flamenco Spanish classical guitarist for weddings in Devon, Cornwall, Somerset, Dorset, Plymouth, Truro, Exeter, Bristol & South West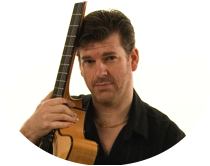 Endorsed by Red Bear Picks & G7th Capos
I am pleased to announce that my long-awaited album 'Heartstrings' is now available on all platforms. Over one hour of the most hauntingly beautiful melodies ever written are presented here with the seductive charm of the spanish guitar taking centre stage. Powerfully emotive contemporary arrangements breath new life into these timeless classics.
You can purchase the physical CD right here by clicking on the store link opposit or on my store page where you will also be able purchase other albums from my catalogue.
Heartstrings Album Preview
Latest Backing Track Video
The backing tracks from all of my album recordings are available for purchase and provide an excellent resource for beginners and professionals alike. You can audition and purchase these tracks by visiting my dedicated media website:
!!!!SPECIAL OFFER!!!!
Any two Cd's for £20 - FREE WORLD-WIDE DELIVERY. While stocks last
Please state which CD's you would like during checkout
Eden Project
Bodelva
Cornwall
PL24 2SG